You can blame this recipe on my raw cookbook. While looking through it, I got inspired to make almond crackers. Their recipes use flaxseeds and a dehydrator. I don't use either on Pesach. I have a cousin that makes her own crackers and they come out really yummy.
When I roll these out, I put them between 2 baking sheets. If you don't have a rolling pin for Pesach, feel free to mush them down with the heel of your palm.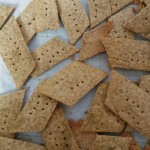 Prep Time: 20 minutes
Cook Time: 15 minutes
Print
Passover Almond Crackers
Use the almond pulp left over from making almond milk. If you don't have any, feel free to use real almonds. Grind almonds into a fine powder with your blender.
Ingredients
Instructions
Heat oven to 450 degrees
Mix dry ingredients
Add oil and water and mix into a dough
Roll so that it is about 1/8th inch thick
Brush with water and sprinkle with rosemary
Slice into cracker size pieces and place on a lined baking sheet
Prick with a fork and bake for 15-20 minutes
Cool and store in a dry container
Allergens
How useful was this post?
Click on a star to rate it!
Average rating / 5. Vote count:
Add to Favourites