We all have foods that remind us of our childhood. For me, nothing brings me back like pinwheel cookies. My grandma was a master at them. Just thinking about them I go all warm and fuzzy.
Food is more than just food. It's memories. It's love. I know that when my son would come home from Yeshiva, I would always make his favorites. When I visit my daughter in town, where she's doing her national service, I bring cookies. Being vegan doesn't mean that you lose the special bond that you have with food. I try to recreate those classics with a new, animal free, variety.
Back to the pinwheels… My grandmother lived in Israel while we lived in the US. Having a batch of her cookies meant that she was visiting. That made them all the sweeter. This recipe certainly does my grandmother justice.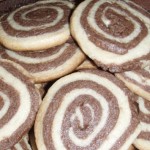 Prep Time: 40 minutes
Cook Time: 15 minutes
Print
Pinwheel Cookies
Smelling these baking always brings back memories of my grandmother.
Ingredients
Instructions
Cream margarine, sugars and vanilla together.
Mix in flour, salt and baking powder.
Separate dough into 2.
Mix cocoa into half of the dough.
Refrigerate for at least an hour.
Roll out each dough and place the chocolate on the vanilla.
Roll up the doughs together and wrap with plastic wrap.
Refrigerate for another 2 hours.
Slice into 1/4" thick cookies.
Place cookies on baking paper and cook at 350 degrees for 10-15 minutes.
Let cool.
Eat.
Allergens
Allergens
Just making these cookies and smelling them bake in the oven really brought me back. Just writing about them puts a smile on my face. You can only image how tasting them made me feel.
The nicest thing about making these cookies is that I now have a recipe that I can share with my children and they can pass on to future generations. I'll be creating memories.
Add to Favourites