Everybody loves these cookies. As far as cookies go, these are pretty great. I've had more people ask me for the recipe to these cookies than any other cookie I've made, so they must be pretty good.
I keep a lot of oatmeal in the house just so that I can make these bad boys. My family is very happy about that.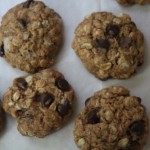 Yield: 36
Prep Time: 10 minutes
Cook Time: 14 minutes
Print
Oatmeal Chocolate Chip Cookies
Everyone, and I mean everyone, who eats these cookies falls in love with them.
Ingredients
Instructions
Mix everything together except the chocolate chips.
Mix in the chocolate chips.
Bake at 350 degrees for 12-14 minutes.
Cool and rack and eat.
Allergens
My kids don't like raisins. I'm not sure, but I think it's the texture that freaks them out. Although this recipe doesn't have any raisins in it, the date honey gives it a raisin like taste. If you do like raisins, like most normal people I know, then you can simply switch out the chocolate chips for raisins. That's the more normal way to eat oatmeal cookies.
One of my favorite things about this recipe is that it makes a lot of cookies. It's really important that it does make a lot because they go really fast. I usually make them on Friday, just before Shabbat, and about a quarter of them just disappear – they are particularly good when warm. If you make them, be careful of your own cookie monsters!
Add to Favourites