The first vegan recipe that I ever posted was for chocolate chip cookies. You can probably guess that they are very dear to my heart. We never used the cookie dough in the fridge section growing up.
Passover is a time of freedom. What's freedom without chocolate chip cookies?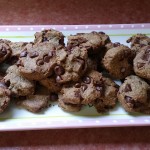 Prep Time: 10 minutes
Cook Time: 15 minutes
Print
Passover Chocolate Chip Cookies
The kids love these cookies. I've made them during the year and they always all get gobbled up. If you can get your kids to happily eat Passover cookies during the year, you know you got a good thing going.
Ingredients
Instructions
Add all ingredients to a bowl except the chocolate chips and mix well
Add chocolate chips and mix
Place heaping teaspoons of batter on a cookie sheet and flatten with your palm
Bake at 350 degrees for 10-15 minutes
Cool on rack and eat
Allergens
Allergens
Add to Favourites