It's hard for me to write a special entry for a vegetable salad. After all, nearly all vegetable salads are vegan. This is a salad that I made all the time before becoming vegan.
My husband doesn't usually touch anything made with the "S" word unless I sneak it in a way that he can't taste it or just doesn't notice that it's there. This salad he'll eat. I figure that if for no other reason, this makes the salad worthy of my blog.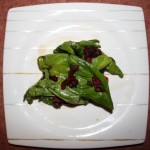 Spinach Salad
This is an easy salad that everyone loves.
Ingredients
Instructions
Wash the leaves and dry them
Put preserves and vinegar in a salad dressing shaker and shake
Mix everything together
Serve immediately
I like recipes like this one that have very few ingredients and mix up quickly.
Make sure to serve this right away. This, like any salad that has vinegar, will wilt the leaves if left too long.
Add to Favourites