We are a soup family. We eat soups all year long, It doesn't matter if it's summer or winter, every Shabbat I make two soups – one for Friday night and one for Shabbat morning.
I love having a crock-pot. I throw all the ingredients in to the crock-pot Friday morning and just let it go until we are ready for lunch the next day. The one thing that I make sure before Shabbat is that there is enough liquid to tide us over until the next day. The soup should be at least partially cooked before Shabbat starts.
My favorite soups are the rich and hardy ones. That's why I love making split pea soup. This is the hardiest one that I know. I like using rice instead of potatoes in my soup. They completely fall apart as they thicken it.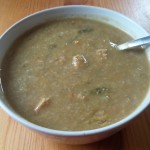 Split Pea Soup
This soup is really a meal in itself.
Ingredients
Instructions
Place all the ingredients in your crock-pot.
Turn it on low and leave it until you are ready to eat - add water as needed.
Serve warm
Allergens
Allergens
In Israel, you can buy Teva Deli salami. I use about 1/3 of the salami in the recipe. I like the country flavor. If you like it to have more of a kick, go for the Italian flavor.
One other nice thing about this recipe is that the only fat in it is in the salami, which is very little. I find that you can remove a lot of the fat when you cook if you cook it in a crock pot.
Add to Favourites