Snow is falling here in Israel. Harmless flurries, not the kind of storm that just hit the East Coast, or the one that hit us a few years ago and left us without heat and power for days. Since that storm, I have to say that I have not been a huge fan of snow. The idea of it just scares me.
How do I keep my mind off the impending doom? I cook. Soups are always my favorite things to cook in the winter. I don't care for them thin, liquidy soups. Give me a soup that sticks to your ribs and you'll have a happy Rena.
I love my hand blender. I use it every chance I get. In case the electricity goes out again and you can't use it, a potato masher works well too.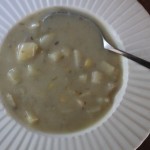 Prep Time: 20 minutes
Cook Time: 20 minutes
Print
Potato and Corn Chowder
This is a lovely thick and creamy soup to keep the winter at bay.
Ingredients
Instructions
Heat oil
Add onions and garlic and fry until soft
Add potatoes and fry a bit more - until they are slightly browned
Add corn and cook for another couple of minutes
Add bouillon
Add water and bring to boil
Cook until potatoes are soft
Remove from heat and partially blend soup until it's chunky, but with a heavy consistency
Serve hot
Add to Favourites