My friend Ziza, whom I like to think of as the salad queen, has come up with another one. This one is completely raw. There is no need to cook the beets.
I never thought of beets as a food to eat raw, but it really works here. Beets are just too hard to eat by themselves. Grating makes them manageable.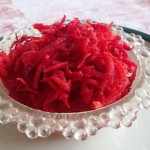 Raw Beet Salad
Ingredients
Instructions
Peel and grate beet, carrots and apple together.
Add the rest of the ingredients.
Mix well and serve.
Just like Ziza's Pepper Salad, this recipe is fat free. Flavor and low fat? How can you beet that. (Get it beet, not beat 😉 )
Add to Favourites