Browsing through the aisles of the supermarket, I happened to notice  spring roll wraps (aka sheets of rice) and bought them. They have been sitting in my cupboard for a while now, and I just got the courage to use them.
I have to warn you – this is a more than one pot food. I've seen recipes for making cold spring roll wraps, which I'm sure are very good, but I was looking for those warm, deep fried ones. The cold ones just seem way too healthy. I'm sure that there is a way to make them less healthy, but they still don't have that crispness that makes them fun to eat.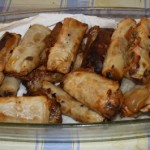 Vegan Spring Rolls
If you can't find a vegan version, make your own.
Ingredients
Instructions
Heat up a couple of table spoons of oil in a wok (regular frying pan does just as well).
Add vegetables and cook until vegetables are soft.
Add noodles, sugar, soy sauce and sesame oil and mix well.
Let filling cool.
Heat oil.
Soak each wrap in warm water (do them separately so they don't stick together).
Fill with 3 tablespoons of filling and deep fry for about a minute on each side.
Drain excess oil on paper towels.
Serve with sweet and sour sauce.
Allergens
Here's a video that I found showing you how to roll them up.
Use a slotted spoon when you deep fry them and put the seam of the spring rolls down. That way there is less chance of them opening when you put them in the hot oil.
It's best to eat these right away – they don't really heat up all that well. They are a bit more time consuming than most of my recipes, but they are fun.
Add to Favourites