I was so happy when I found this recipe. I've made other mock chop livers before – with peas or string beans, but those all had hard boiled eggs in them. No good for me. I was also so happy to find it because it is both easy and something that I will be able to make on Passover. I'm a bit nervous about Passover. Since I won't be able to eat tofu or soy it's going to really limit my variety. At least it's only for a week.
Back to the mock chop liver. Here's the recipe: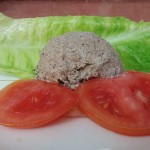 Mock Chop Liver
This is one of my favorite recipes. You can serve it warm or cold.
Ingredients
Instructions
Heat about 2 tablespoons of oil in fry pan
Add onions and mushrooms and cook on a medium heat until caramelized. Add oil as needed
Put walnuts in a food processor and process
Add caramelized onions and mushrooms and process until  smooth
Mix in salt and pepper to taste
Eat
Allergens
Allergens
I made this last week and served it with more fried onions. You just can't have enough fried onions.
It makes such an amazing sandwich stuffer. Very yummy!
Add to Favourites