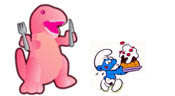 I am so psyched. I am in Austin, at SXSW (South by South West) Interactive this week. In case you never heard of it, it's like a conference on steroids. There have been such amazing speakers. The whole experience has been totally amazing.
One of the speakers was an all time favorite of mine, Gary Vaynerchuk. But I passed on Gary V to go to the session on Vegan Blogging. I'm so glad that I did!
To be honest, I was a little nervous before I entered the room. I have been doing my vegan thing in isolation (not by choice) and assumed that all the vegan stereotypes were true about other vegans. You know, that we are all crazy fanatics that love animals and hate other people. Not so. We're all just a caring bunch that want to educate people. That's really cool.
Stephanie Bogdanich (Lazy Smurf's Guide to Life) and Laura Beck (Vegansaurus) gave some great tips from their experience as vegan bloggers. Besides good blogging tips, like making sure to comment on other vegans' blogs, they spoke about their internet activism. About how their passions are what drives their blogs, which brings people to them.
They spoke about how less than 1% of Americans are vegans. We're a small community that likes to help each other. Great ideas for getting the word out go beyond just blogging. If you've read this blog with any consistency, you know that I love to bake. Stephanie and Laura suggest having vegan bake sales to show people that vegan food is not only not scary, but is really good. It makes sense that people will be more willing to listen to you if you hand them a cupcake. I know I would.
I had never hear of "carrot mobs" before. It's basically a group of people getting together to support for businesses that are friendly to the environment and the vegan cause. There's nothing more environmentally friendly than being vegan.
For me, it's been really important to meet other vegans. I often feel like I'm a bit of a freak when I go out into the world. People look at me like I'm crazy when I ask if  food has eggs or milk products in it. Knowing that there are like minded people, and being able to put a face to a name is so important. I don't feel all that alone.
On a side note, Austin is an amazing place for vegans. I haven't done the whole vegan scene here, but just going to WholeFoods was an amazing experience. There are so many things that you can get that are both vegan and kosher, it just blows my mind. This blog came out of the fact that it is really hard to find vegan food in Israel. That's not the case over here. Practically anything you can imagine, you can get a vegan version over here. I think that my favorite thing so far has been the chocolate peanut butter ice from "Purely Decadent", but I'm sure that I'll find others.
All I have to say is that it got a whole lot easier to be vegan. Thank you guys!