My daughter made the cutest clown cupcakes ever for Purim. Well, I actually made the cupcakes (I used my yellow cake recipe). She decorated them. In general, when we make Mishloach Manot for Purim, we try to make it themed. Since we already had those little clowns, we thought it would be a good idea to come up with something that you'd get at a carnival or circus to go with them, so caramel apples it was.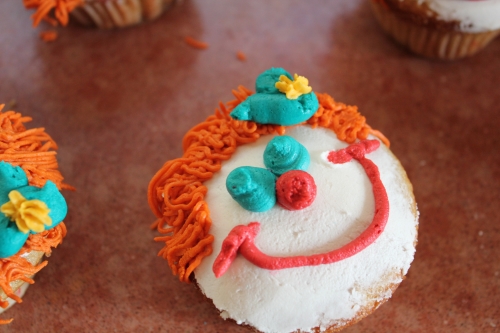 I have never made caramel apples before. Not even before my veganhood. I looked all over the internet and came up with this amazing and pretty easy recipe for making them. The website Very Vegan Holiday posted this recipe a great recipe a while back. What I really like about it is you don't need caramels of any kind before you start. Vegan caramels are impossible to find in Israel, so this recipe was perfect for me.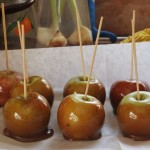 Prep Time: 15 minutes
Cook Time: 15 minutes
Print
Caramel Apples
This totally satisfies my sweet tooth.
Ingredients
Instructions
Prepare apples by taking out the stems and putting in sticks.
Melt 1/2 c. margarine in a large pot on medium heat.
Add soy milk and potato starch and stir until absorbed.
Add corn syrup and sugar and bring to boil on high heat.
Stir occasionally, until mixture is a light-to-medium golden brown.
Take off heat and let cool for 1 minute. (It should still be very hot.)
Stir in the rest of margarine and vanilla.
Dunk each apple into the sauce and put on baking paper to harden.
Let cool and eat.
Allergens
Allergens
It's true that I made a few of my classic short cuts when I put these together. I mean, why would I want to dirty a blender unless it was absolutely necessary? And I don't own a candy thermometer, so that was a non-starter.
As you can see, these are far from healthy. (At least I put together a hamantashen recipe that is oil based instead of with margarine.) Even though they are very easy to make, I don't think that I'll be making them often because I like my arteries the way they are. I'll keep these for a special occasion. It's really good that Purim only comes once a year.
Add to Favourites