Pie is cool. It's really easy to make pies vegan. Apple pie is really yummy. It's definitely a comfort food from my childhood. What's more American than having apple pie?
Even before I was a vegan, I always made an oil crust. I use this crust for both quiches and pies. For pies I add a couple of tablespoons of sugar to sweeten it up. It's a very dependable crust that comes out good every time.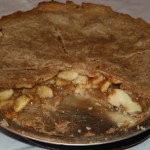 Yield: 8
Prep Time: 20 minutes
Cook Time: 60 minutes
Print
Apple Pie
I use this pie crust for all my pie recipes. It's wonderfully flaky.
Ingredients
Instructions
Crust:
Mix the flour, sugar, salt and oil together. It should be pea like pieces.
Add water, a little at a time, until it forms a dough that can be rolled out. If it still seems a bit dry, add a bit more oil.
Split into 2 uneven balls - 2/3 and 1/3.
Roll out the larger ball and place bottom of pie crust.
Trim extra crust and bake at 400 degrees for 10 minutes.
Filling:
Mix all ingredients in a bowl.
Fill pie crust.
Roll out and cover with remaining dough.
Bake at 380 degrees for 50 minutes.
Allergens
Allergens
If you like you can add 1/4 c. raisins to the apple mixture. Before you add them, steep them in hot water and they'll blow up a bit.
Add to Favourites