My husband is in New York. I can't say that I'm not a bit jealous of him. New York is one of my favorite places in the world. I feel like I'm absorbing the energy of the city as I walk down Broadway to Times Square. There is no place like it in the world.
I can't help but think of Black and White cookies when I think about New York. When I lived in Queens when I was a kid my favorite cookies in the world were Black and White cookies. So good. My brother is a vanilla person and I, as you know, am a chocolate person. We used to split the cookies by color and eat our respective halves. Very good memories.
They don't make cookies in Israel like they do in New York. It's not that the cookies here aren't really good, they're just different. Black and Whites are more cake like than pinwheel or other type of cookies that you find here.
Before I was a vegan I used to just wait to go to New York to get my Black and White fill. Since going to New York won't help (unless you know a vegan kosher bakery that makes them) I decided to make them myself. Here's my recipe: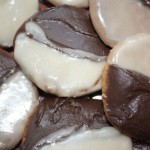 Yield: 12
Prep Time: 60 minutes
Cook Time: 20 minutes
Print
Black and White Cookies
These are worth the effort that goes into them!
Ingredients
Instructions
Cookies:
Cream together margarine, sugar and brown sugar.
Add lemon juice to soy milk and let sit for 3 minutes.
Add all the ingredients to the margarine mixture.
Roll 1 inch balls and flatten out to cookies that are about 3 inches in diameter.
Bake on a greased cookie sheet for 15-20 minutes at 350 degrees.
Cool cookies on a wire rack.
Chocolate frosting:
Melt chocolate chips.
Add powdered sugar and hot water a little at a time until you get a good texture.
Vanilla frosting:
Mix all ingredients together, adding a little hot water at a time until you get a good texture.
Spread chocolate and vanilla  frosting on the bottoms of the cookies.
Let cool so frosting can harden.
Eat.
Allergens
When you are baking these cookies be careful not overcook them. It's not that they won't taste good, but they can get a bit hard, which is not the way they make them in New York. Also, when you're mixing the frosting, it should be thinner than a cake frosting, more like a glaze.
No matter how good these cookies are, and they are really good, I'd rather be in New York with my husband for so many reasons. At least I have the cookies. I guess that I'll just have to settle for them.
Gil, I hope that you are having a great time. I miss you. Come home safely and soon. Love you.
Add to Favourites