I am so excited! I became a Savta (Hebrew for Grandma) a little less that a month ago. My grandson is the cutest and cleverest child that has ever been put on this earth. He is completely yummy. If his parents let me, I would share a picture so you could enjoy him for yourself, but alas, they are keeping his gorgeousness off the internet. That's probably the right thing to do.
This Friday my grandson will have his Pidyon haBen (redemption of the first-born son) at my house. I feel very honored that my kids are doing it here. It's really something special. I can't remember the last Pidyon I was at. It may have been my 21-year-old nephew's. Since the Pidyon is done when the baby is a month old, that's a long time ago.
I've started cooking already. I'm not alone – a lot of people that are coming are bringing food too. It will be a mixture of vegan and non-vegan fare. Here is my list (so far) of things that I'm making:
Babka
Israeli Salad
Quinoa Salad
Summer Salad
Mac and Cheese
Cake pops
Oatmeal cookies
Blueberry muffins
Pancakes (if I have a bit of extra time in the morning)
I'm probably missing something here, but I think it's a pretty good start.
Since I'm making quite a bit of stuff (very happily, I might add) I needed to start cooking and freezing some of the food. I started with the Babka. Honestly, it's the perfect thing to make if you're a grandma. After all, Babka does mean Grandmother in Polish.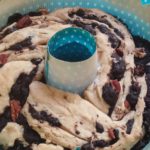 Prep Time: 2h 20 min
Cook Time: 30 minutes
Print
Babka
I use aquafava that I have left over from making hummus. Since aquafava came on the scene, I've been using it in a bunch of different recipes and have been very happy with it. If you don't have, try switching it out with apple sauce.
Ingredients
Instructions
Dough:
Activate the yeast in a bowl with the warm water and sugar
Add the rest of the ingredients and mix with a dough hook until all the flour is incorporated
Let sit 2 hours to rise
Roll dough out to a rectangle
Filling:
Melt all the ingredients together and let cool a bit
Spread filling out over the dough
Roll up the dough so that it makes a long tube
Slice the tube in half and braid the two halves, one over the other
Place in a pan lined with baking paper
Cook at 350 degrees for 30 minutes
Syrup:
Place all in ingredients in a sauce pan and cook until sugar is melted
Pour over baked Babka
Allergens
For me, it's counter-intuitive to have to cut the dough open and braid it with the filling sticking out. I would have never though to do it on my own. It gives such a pretty effect. I guess now that I'm a Savta, I'm going to have to start learning more things like this.
Add to Favourites