I make a lot of different types of desserts for Passover. I have two that are particularly decadent. This one and a chocolate torte that I make every year. This is by far the easier of the two. You use a piece of matzo to hold it all together. The truth is it really is a pity to only eat them one week a year.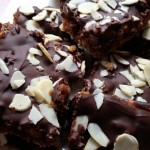 Prep Time: 10 minutes
Cook Time: 12 minutes
Print
Passover Turtle Bars
I don't even bother with a bowl to mix these up. Everything can be mixed in a sauce pan.
Ingredients
Instructions
Line a pan with baking paper
Place matzo in the pan
Melt the margarine, brown sugar, pecans and salt in a sauce pan
Bring to a boil, lower heat and let cook for 2 minutes
Pour mixture on the piece of matzo and bake at 350 degrees for 1 minute
Take out of oven and sprinkle with chocolate chips
Return to oven for 2 more minutes
Remove from oven and spread chocolate on the pecan mixture
Sprinkle with almonds
Cut while hot
Let cool and serve
Allergens
5

stars - based on

1

review(s)
Sprinkling chocolate chips on a hot cake is a great way to make a mock frosting. I do it with cakes all the time. It's especially fun when you add colorful sprinkles on top of the cake.
Add to Favourites