I love toys. One of my favorite toys is my iCake. I bought it for the doughnut maker, but it also does cake balls, muffins and waffles. I've only used the doughnut and waffle trays so far, and they work great. As a matter of fact, I've given away my old waffle maker – no need to have the extra clutter in the house.
People have a lot of fun with the mini doughnuts that I make. When I ask what I can bring to parties, doughnuts are usually the first thing that comes to people's minds. I usually make 2 types – chocolate and vanilla. For the chocolate ones, I use my wacky cake recipe. Now I'm going to share my recipe for the vanilla ones.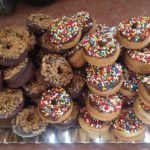 Vanilla Doughnuts
These vanilla ones are great. If you want chocolate, just use the wacky cake recipe instead. I glaze the chocolate ones with a mixture of icing sugar and water.
Ingredients
Instructions
Mix soy milk and vinegar and set aside.
Mix together all other ingredients expect chocolate chips and sprinkles.
Add soy milk and mix well.
Heat doughnut maker and spray with cooking spray.
Spoon in mixture and cook according to doughnut maker directions.
Let cool.
Melt chocolate.
Dip doughnuts in chocolate and sprinkles.
Let chocolate harden and serve
Allergens
4

stars - based on

1

review(s)
The sprinkles that I use depend on my mood. You can never go wrong with multi-color ones.
Add to Favourites