I like barley. I think that barley has to be one of my favorite grains. It's an excellent source of fiber, it's packed with vitamins and minerals, and it contains antioxidants and phytochemicals. What else could you ask for? I love throwing it in soups – it can change all soups from starters into real meals. Couple barley with beans, and it's a real powerhouse of a meal.
I look for shortcuts whenever I can when I cook. I have a ton of beans that I keep in my freezer, but I practically never use them. Who can remember to soak them overnight before it's time to cook them? I usually have no idea what I'm making until the day that I make it. That's why I keep a stock of canned beans in the house as well.
It's one of the funny things about living in Israel – until really recently you weren't able to get a variety of canned beans in the supermarket. To get beans like butter beans or black-eyed peas, you need to go to stores that import them from the US. It can be a pain, so when I go, I stock up on these hard to get varieties. Some beans, like garbanzo beans (chickpeas) and black beans are carried all over the place. That makes them my beans of choice when I want to do anything with beans.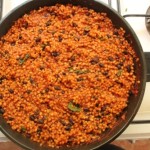 Yield: 8
Prep Time: 20 minutes
Cook Time: 20 minutes
Print
Barley-Black Bean Pilaf
This is one of my favorite one pan meals.
Ingredients
Instructions
Heat oil in a large frying pan.
Add barley and brown barley lightly.
Add 4 c. water and bring to boil.
Lower heat and cook for 10 minutes.
Add orzo and cook until barley is cooked through
Add beans, tomato paste, salt, garlic and 1 c. water and cook until most of the water is absorbed, stirring occasionally.
Stir in basil and cook until wilted.
Serve warm.
In Israel, orzo is call pititim and it comes in all kinds of shapes. The most popular shape are the little round balls. They are another thing that I try to keep in the house all the time. Even when I'm not making a pilaf, the kids love pititim lightly toasted and cooked.
Thinking about it some more, this is a recipe of staples – it's a bunch of stuff that I have in the house that I can throw together any time that I want. The ingredients are nothing special, but you wouldn't necessarily think about throwing these ones together. Trust me – they work well together.
What do you keep in your pantry and throw together to make a meal? I'd love to hear about it!
Add to Favourites