Being stuck inside during this crazy Covid-19 virus, I've had a bit of time to write down some recipes. I love getting new recipes from family and friends. This recipe is kosher for Passover, but I make it all year long. I got this recipe from our cousin Sarah, when we were visiting them in New York a few summers ago. Yes – that's when we were still allowed to travel…
Sarah told me that she makes it all the time, and I can understand why. It's really good. Now I make it all the time.
If I need what I'm cooking to be sweet, I usually use silan (date honey) or brown sugar. This recipe uses maple syrup. Maple syrup in Israel is pretty expensive. The best deal that I found is at Osher Ad. They bring in Kirkland brand maple syrup. It's still more expensive than what you can get in America, but it's something I can live with.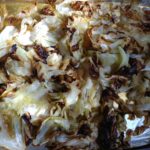 Prep Time: 10 minutes
Cook Time: 20 minutes
Print
Sweet Cabbage
This may not look like much, but everyone really flips over this recipe.
Ingredients
Instructions
Slice cabbage into 1/4" rounds and place on baking sheets
Whisk all the other ingredients together
Pour liquid mixture evenly over cabbage
Roast cabbage in the oven on high for about 20 minutes, turning every few minutes until the cabbage is limp
Serve warm
We always have such a great time when we go to Aaron and Sarah. They really make us feel at home and we love playing with their kids. Even though we are far apart, it's wonderful to be able to share food across the ocean. We hope to be able to return the experience when they come to Israel.
Add to Favourites