Rosh Hashana is around the corner and I'm looking to branch out from what I usually make to something a bit more challenging. This year we will be having stuffed cabbage.
My Ashkenazi grandmother use to make stuffed cabbage for special occasions, including Rosh Hashana. When I watched her make it, it always seemed like so much work, and I was sure that I was going to need hours in the kitchen. That may have been the case with the way that I used to make it, but my friend taught me a trick to make them with no fuss.
My Savta used to boil the cabbage for rolling. It was hard to get cabbage that didn't wind up full of holes. Holey cabbage is very hard to wrap up. I am not nearly as skilled as my Savta was, and when I would try to make it in the past, I usually just gave up.
My friend Ziza told me, instead of boiling, just freeze the cabbage. After it's defrosted, the leaves just simply fall off. Wow. This is the kind of thing in my world that I would call life changing. It turned a crazy hard dish into something that just looks hard. Nice!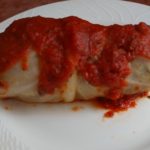 Prep Time: 20 minutes
Cook Time: 60 minutes
Print
Stuffed Cabbage
I wish my Savta knew that there was a better way. She would have loved this.
Ingredients
Instructions
Freeze cabbage overnight.
Defrost, peel leaves gently and set aside.
Cook rice and set aside.
Heat oil in frying pan and add onions, mushrooms and garlic and cook until the onions are translucent.
Add pine nuts and let the brown slightly.
Add ground and spices and let cook 5 minutes.
Add to rice and mix thoroughly.
Place 2 heaping tablespoons at the bottom of each cabbage leaf, fold the bottom and sides in, and roll up.
Place rolls in a baking pan and cover with tomato sauce.
Bake at 350 degrees for 1 hour.
Serve hot.
Allergens
I have decided to always keep a cabbage in my freezer just in case I have the urge to make stuffed cabbage. That just means that I don't have to plan a few days in advance when I want to set my menu for Shabbat or Chag.
I want to wish you all a very happy and healthy new year.
Add to Favourites