Traditionally, kreplach (aka Jewish won-tons) are made 3 times a year, Yom Kippur, Hoshana Rabba and Purim. Seeing as it's Rosh Chodesh Adar and Purim is around the corner, I thought that I would give them a try. My kids are very glad that I did.
Kreplach is not something that I really grew up eating. My Ashkenazi grandmother was a fierce blitz maker, but I guess that kreplach were not her forte.  (My Sephardi grandmother made kubbeh, which is similar in idea, but tastes completely different.) We would either buy kreplach or just eat it at other people's houses.
Before I was vegan, I never attempted to make kreplach myself. I had no idea what it entailed until I started. All the classic recipes use a lot of eggs for the dough and ground chicken or ground beef for the filling. That is not happening here. Instead of eggs, I used corn starch and instead of meat, I used mushrooms. It worked perfectly.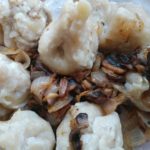 Prep Time: 40 minutes
Cook Time: 10 minutes
Print
Kreplach
The hidden miracle of Purim is represented in Kreplach.
Ingredients
Instructions
Fry onions and mushrooms in olive oil until onions are translucent
Add parsley and salt
Take half of the mushroom mixture and grind to make filling
Mix and knead dough ingredients together. The dough should not be dry
Roll out dough 1/4-1/8 inch thick
Cut dough into 2 1/2 inch squares
Fill with 3/4 teaspoon of mushroom mixture and seal well
Boil water with a pinch of salt and boil each of the kreplach
Remove with a slotted spoon when kreplach start floating, about 5-10 minutes
Put on a plate with the rest of the onions and mushrooms and serve
Allergens
Allergens
Have a wonderful Purim!
Add to Favourites