My eldest daughter loves bananas. I try to make sure that we have them in the house for her whenever she's home. The problem is that she isn't home all that often. My daughter does her national service at a place called SHEKEL. It's an amazing place. It's a factory that employs people with special needs. They make the most incredible stuff like beautiful candles, soaps, challah covers, and other housewares. They also make stuff like electrical boxes and they package things for other companies. The idea is to have people be able to contribute at whatever level they are able to. It's really nice.
Back to bananas. I buy they for my daughter, but she only comes home on weekends, so I usually have a lot of bananas left over. No one else in the family has her banana love, so I wind up with overripe bananas on a regular basis. No worries. When God gives you bananas, make banana bread! (Sort of like the lemon thing, only much tastier!)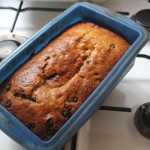 Yield: 12
Prep Time: 15 minutes
Cook Time: 60 minutes
Print
Chocolate Chip Banana Bread
My kids love when we have old bananas. It almost always means we're having chocolate chip banana cake.
Ingredients
Instructions
Spray a loaf pan with vegetable oil spray.
Pour lemon juice into soy milk and let stand 2 minutes.
Mash bananas.
Mix all ingredients together, minus the chocolate chips.
Stir in the chocolate chips.
Pour batter in loaf pan.
Bake for 1 hour at 350 degrees.
Allergens
As much as my daughter likes bananas, she likes the banana bread even more. The whole family does too. It's something that we can all agree on.
My daughter's first year of service is wrapping up now. I just wanted to let her know how proud I am of all the hard work that she does. Shira, I know that you take a lot on yourself, with your service and with everything else that you do. Me and Abba are very proud of you and love you very much. Keep it up, and I'll keep buying bananas. We love you!
Add to Favourites