I have the cutest grandson ever. He's my only grandchild so I can still say that. He is the essence of kibbutz galuyot – the gathering of the Jewish nation back into Israel. His father is 1/4 Lithuania, 1/2 Polish and 1/4 Iraqi. His mother is 1/2 Yemenite, 1/4 English and 1/4 Dutch. I really love living in Israel!
I started making Kubahneh after my son met his wife. Tamar is one of the most amazing people that I know, and we are so lucky that she is part of our family. My son did good.
Kubaheh is a type of Yemenite bread that you pull apart to eat. Not only is it tasty, it's a lot of fun to eat.
I have always loved eating Kubahneh, but it just seemed so foreign to me, I also thought that it was going to be a big deal to make, but it really isn't. It's true that you need a special pot to bake it in, but it is definitely worth the investment!
Most Kubahneh is made with margarine. I try to stay away from margarine. They don't sell the healthy brands of margarine that you can find in the US, and since it's not exactly a health food, if I can replace it with something else, I do. To make it a bit richer in flavor, I chose to use olive oil. It worked out great.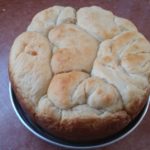 Prep Time: 2h 00 min
Cook Time: 30 minutes
Print
Kubahneh
This is one of the most fun things to eat on Shabbat morning!
Ingredients
Instructions
Add sugar to the warm water and activate the yeast.
When the yeast is nice and bubbly, add the flour and salt.
Combine all the ingredients together and mix to a nice dough.
Let sit for about an hour to allow the dough to rise.
separate the dough into 8 equal parts and pat them down.
Pour a bit of olive oil in each of the pieces, spread out and roll them up.
Oil the sides of the pan and place all pieces in the bottom and cover.
Let dough rise a second time, for another hour.
Bake at 350 degrees for about 30 minutes.
Serve hot.
Allergens
Allergens
On Shabbat day, I wrap it in tin foil and warm it up on the plata. It can't be beat!
Add to Favourites