Some days I am the laziest cook around. The good thing about the way that I cook is that you can't always tell that I used the fewest pots possible. That's one of the things that I really love about these cookies. They look hard but they're not. I'm not sure if it was a compliment or an insult, but when I gave some of them to my mom she said that she thought they were store bought, because they looked so good. (She meant it to be a compliment, really).
You get your hands dirty with these bad boys. I know, I probably could have used a mixer, but then I would have needed to clean the mixer and where's the fun in that?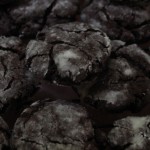 Yield: 2 dozen
Prep Time: 30 minutes
Cook Time: 10 minutes
Print
Chocolate Brownie Cookies
These are for serious chocoholics.
Ingredients
Instructions
In a medium sauce pan, melt chocolate with soy milk.
Stir in the rest of the ingredients minus the powdered sugar.
Knead dough to make sure all ingredients are mixed together thoroughly.
Refrigerate for at least 10 minutes to harden dough.
Roll into tablespoon size balls and roll in powdered sugar.
Flatten balls and place on a cookie sheet.
Bake at 350 degrees for 10 minutes or until cookies start to crack.
Cool and eat.
Allergens
5

stars - based on

1

review(s)
I knead the dough directly in the pot. That's how much I hate cleaning up a big chocolatey mess. Don't knock it, it works.
There's a big debate in my house on whether the cookies taste better hot out of the oven or cooled. I like them better after they've had a chance to cool because they are just too soft for me right out of the oven. I'm not alone. My son agrees with me so I can't be totally crazy (unless, of course, crazy is a genetic thing that my son inherited from me). Gil and the girls like them best after they've only had a couple of minutes to cool. Don't get me wrong, they are really good that way too. They just seem more fudgey to me after they've cooled off. I know, it defies logic, but that's the way that it is.
No matter how you like them, these cookies are totally decadent and rich. Very yum!
Add to Favourites