Today has just been one of those days. My husband is away on a business trip, the phone lines are down, I have no internet, the sink is clogged and the just-fixed ping pong table fell in the wind and broke. On days like these, the remedy is always the same: Chocolate. Since today is the day that I go into town to see my daughter, it is also the day that I make cookies.
These Chocolate Chip Cookies are decadent! They are really rich any yummy. They're perfect for when you need a fix. Since they are cookies, the baking time is short (10 minutes) so that means that you can get your chocolate on quickly.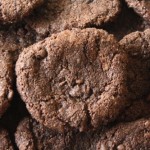 Prep Time: 15 minutes
Cook Time: 10 minutes
Print
Chocolate Chocolate Chip Cookies
These are incredible rich. Make sure to have some soy milk to wash them down.
Ingredients
Instructions
Grind flaxseeds in a coffee grinder or food processor.
Mix ground flaxseeds and water together in a bowl and let sit on the side for a few minutes.
Mix well all ingredients except the chocolate chips.
Mix in chocolate chips.
Roll dough into 1 inch balls and flatten to 1/4 inch.
Bake at 350 degrees for 10 minutes.
Cool and eat.
Allergens
The more that I cook, the more stuff I learn. For instance, this recipe calls for baking soda instead of baking powder. Baking soda really brings out the richness of the chocolate. Be careful not to overdo it on the baking soda. Too much, and it can give whatever you're baking a metallic taste.
I also love using flaxseeds. They are really little powerhouses. They are high in fiber, antioxidants and Omega-3 fatty acids. What more could you ask for? I bought ground flaxseeds at the health food store, but they don't work well as a coagulant. You need to grind them fresh in order to release the stuff that makes them turn gooey with liquid.
These make really big cookies, which is perfect for giving a nice warm fuzzy feeling when you're having a hard day. I know that I enjoy them! I hope that you won't "need" them too often, but are able to enjoy them whenever you like!
Add to Favourites