I just got an SMS from my daughter: Bring something yummy when you come to my school tonight.
Instead of giving a preamble about what being vegan means to me and why do I do it, I thought I'd go into my philosophy about making being a vegan easy. More than anything else, it's important to me to make sure that my family isn't missing out because of the new lifestyle that I chose. I try to find recipes of comfort foods and veganize them. That way, becoming vegan isn't that big a step. That's why I'm off to make easy vegan chocolate chip cookies. Yum!
Here's how it goes: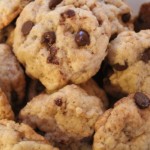 Prep Time: 15 minutes
Cook Time: 10 minutes
Print
Easy Vegan Chocolate Chip Cookies
Everybody likes chocolate chip cookies. If you're going vegan, this is a great place to start.
Ingredients
Instructions
Heat oven to 375 degrees.
Mix everything together in a bowl.
Shape into teaspoon size  balls and bake for 10 minutes.
Let them cool.
Eat.
Allergens
If I'm going to bake for my daughter and bring it to her school for all her friends to eat, one thing that is VERY important to me is she lets everyone know that they are vegan. I believe that we can all change the world with our actions, and that living by example is the best and most honest way to live.
This is not really what I meant to say in my first post of this new blog, but cookies are a very important thing!
One more thing that I forgot to mention – I believe in using as few pots/bowls/spoons or any other things needed to bake, as possible. I hate washing dishes.
Add to Favourites