I have the best husband in the world. Besides being incredibly supportive of all my vegan and animal and you name it, crap, he tries to make my life as easy as possible. On a recent business trip, instead of coming home with some sort of trinket, the way he usually does, he brought home a bread maker.
I love fresh bread. I could eat a good loaf of bread faster than cake. This isn't a vegan thing – I've always been this way. A lot of good bread recipes that I've found are already vegan by nature and don't need any modifications. I always thought that bagels had eggs in them. To my surprise they don't. There are egg bagels, but why would anyone want to bother with that?
So, for the first time in my life, I set out to make my own bagels. With the boiling and the baking, I really thought that it was going to be so much work, but it was really easy. Here's the recipe that I used:
Ingredients: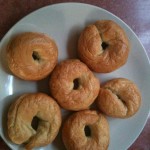 Yield: 6
Prep Time: 20 minutes
Cook Time: 20 minutes
Print
Bread Machine Bagels
These are better than any bagels that I've been able to find in Israel.
Ingredients
Instructions
Put all ingredients in bread machine and set on dough cycle.
Separate dough into 6 pieces and roll them out into 10 inch long strands. Fasten together each strand in a circle to make bagels.

Place dough in boiling water for 2 minutes.
Bake at 350 degrees for 20 minutes until golden brown.
Allergens
Allergens
The problem with making something in the bread machine is that the quantities are small. Twice that quantity would work better for me. I guess I'll just have to make two batches. They came out so good!
The other really cool thing is that now that I know how they are made, I can buy them without any worries. Obviously home made bagels, warm out of the oven are soooo good, but having something to eat out is really nice. Long live the bagel!
Add to Favourites