A few weeks ago, my girlfriends and I had another vegan night. When trying to figure out what to make, I went with something near and dear to my heart – Tex-Mex food. After all, I am from Dallas. Every so often I need to refresh my Texan pallet with some good ol' down home cooking.
I don't know why, but Mexican food just hasn't taken off in Israel. A long time ago, during my pre-vegan days, I used to love going to a restaurant called Amigos, in Jerusalem. It was the only place that I knew of to get real Mexican food. It closed down more than 10 years ago, and I haven't had a fajita since. That is, until I made them myself out of seitan.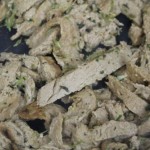 Yield: 6
Prep Time: 15 minutes
Cook Time: 15 minutes
Print
Fajitas
You can use store bought seitan, but if you want to save some money, you can make it yourself!
Ingredients
Instructions
Cut the seitan into thin strips.
Mix all the ingredients together, minus the onions.
Let marinate for at least an hour (overnight is better)
Heat oil in a skillet and fry onions until translucent.
Add seitan and cook until heated through
Allergens
Allergens
One of the cool things about using seitan is that you don't have to worry about how long you cook it. By the time it hits that pan, it's already been cooked through.
For the night with the girls, we had grilled veggies, guacamole, red rice, corn bread, soup and salad to round out the meal. To top it all off, I made Mexican Wedding Cookies from The Vegan Cookie Connoisseur
. I have to say that that cookbook is one of my favorites.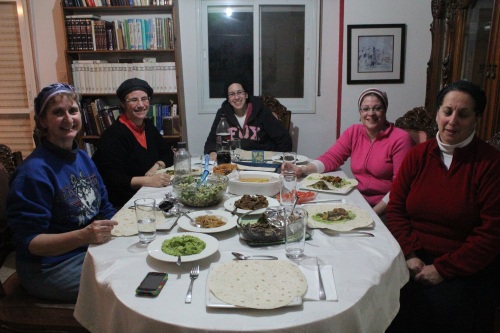 The food was great, but more than enjoying what was on our plates, we just had a great time talking and spending time together. With everyone's busy schedules, it seems to be something that has become increasingly more difficult to do. Food is a great excuse to come together. We really should do it more often!
Add to Favourites