My mom never made macaroni and cheese when I was growing up. My fond memories of mac and cheese come from our next door neighbor's house. I used to babysit for the girls all the time. As one of the many perks, I got homemade mac and cheese. Rebecca (the mom) never made her mac and cheese from the powdered stuff. She actually made it from real cheese. (It was American cheese, but I think that still counts as cheese.)
I've seen a lot of recipes that use nutritional yeast. I bought some when I was in the US because it just seemed like one of those things that vegans put in their food. But I can't stand the stuff, and it's rarely necessary. Every so often I take it out and try to use it again, but it just has such a weird taste. It's not for me.
In addition (or subtraction) to not having nutritional yeast, this recipe is also soy-free. No soy plants were harmed in the making of this recipe. It's not that I'm against harming soys, it's just that it was not needed.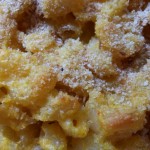 Prep Time: 20 minutes
Cook Time: 40 minutes
Print
Mac and Cheese
The potatoes and nuts make this a really creamy sauce, without using any real or fake cheese. The carrots give it a nice orange color.
Ingredients
Instructions
Boil up macaroni according to the directions on the package
Chop up vegetables and boil in water until soft
Put nuts and oil in a blender and blend
Add the rest of the ingredients, including the veggies and the water they were boiled in, except for the bread crumbs
Process until smooth
Mix macaroni with cheese sauce and put in a baking pan
Sprinkle with bread crumbs
Bake for 40 minutes at 350 degrees
Serve hot
Allergens
5

stars - based on

1

review(s)
I haven't seen Rebecca, Barry, Simmie or Dina in years. The kids that I used to babysit are all grown up, with kids of their own. I will always remember the fun times we had. Especially when I eat mac and cheese.
Add to Favourites