I'm not the biggest fan of green peppers. I've always found raw green peppers bitter. I know that there are a lot of people that like them, I'm just not one of those people. I like red peppers and yellow peppers, just not green.
But more than I hate green peppers, I hate wasting food. Someone gave me a couple of green peppers that would have gone to waste if I didn't use them, so what's a girl to do? I made Hawaiian tofu.
Instead of using rice, I used quinoa. Quinoa is really cool. It's super healthy with a ton of protein. When you make quinoa, be careful to rinse it well. If not, it can have a bitter aftertaste. Cooking it with pineapple juice gives it a nice, sweet taste.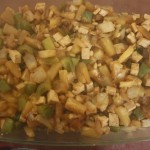 Hawaiian Tofu with Quinoa
I love the sweet and tangy flavor of this recipe.
Ingredients
Instructions
Quinoa:
Rinse quinoa.
Put ingredients in a pot and bring to a boil.
Lower heat and simmer until all liquid is absorbed.
Tofu:
Heat up oil in a frying pan.
Add onions and cook until translucent.
Add peppers and garlic and cook until soft.
Add tofu, pine nuts, pineapple and ginger, browning tofu on all sides.
Add soy sauce and sesame oil and cook until heated.
Poor quinoa into a serving dish and cover with tofu mixture.
Serve.
Allergens
Allergens
As much as I complain about green peppers, I feel very passionate about pineapple. It's one of my favorite foods in the world. I like it in all forms: fresh, canned or dried, it's the best. I often carry dried pineapple with me to snack on. Not the super sugary stuff, but the dried pineapple without added sugar. You can't get it in most super markets. It's really worth the trip to the health food store.
I love using sesame oil. It gives these kinds of dishes amazing flavors. Even though it's oil, it should not be used for frying instead of canola or other frying oils. It just doesn't cook veggies well.
I know that I spent a lot of time dissing green peppers, but make no mistake, this recipe is very yummy. Go ahead and put on a wild shirt. Swing a lai around you neck and dig in. I hope that you enjoy this dish as much as we did.
Add to Favourites