I'm not really a bean person. At least I'm not a bean person unless those beans are in Mexican food (also know as the best food in the world). If I'm going to eat legumes, chances are, they are going to be lentils.
I love this soup because not only does it have lentils, it has spinach. That makes it full of both protein and iron. It's like a healthy one-two punch. Whenever you eat anything with iron it's a good idea to have vitamin C. Not a problem. The crushed tomatoes provide plenty of C so you'll be able to absorb the iron.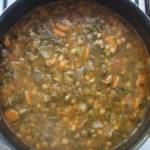 Lentil Soup
This is a very hearty soup. Once in a while, I just throw all the ingredients in a crock pot with a bit of extra water, and we have it for Shabbat lunch.
Ingredients
Instructions
In a large pot, heat olive oil.
Fry up onions until translucent.
Add carrots and celery and cook 5 minutes.
Add garlic and cook 2 minutes longer.
Add the rest of the ingredients and bring to a boil.
Lower heat and simmer for 2 hours or longer.
Serve.
I know that this is a good soup recipe because my husband can't stand spinach, but he always asks for seconds when I make this. In general he has a rule that you can make anything healthy taste good but it will no longer be healthy. This worked for my spinach salad (that has jam and craisins in it) and he loves anything deep fried (who doesn't?). There is absolutely nothing unhealthy here though. Just serve with a couple of hunks of bread and you have a full meal.
Add to Favourites