Since becoming vegan, I've cornered the market on vegan cookbooks. There are a ton of amazing recipes out there from really talented cooks, bakers and chefs. One of my favorites is The Vegan Cookie Connoisseur
by Kelly Peloza. This cookbook has practically every type of cookie that you could imagine. It even has some that you probably couldn't have imagined.
The reason that I chose to make Butterscotch Cookies was because they were incredibly easy to make. I don't really like working crazy hard in the kitchen. We all have a lot of things to do, and kitchen time doesn't always seem to fit in. There are some times when I love to fuss and spend lots of time cooking, but Tuesday mornings isn't one of them.
Every week I meet my eldest daughter for a late lunch in Jerusalem. She lives in an apartment there with a bunch of girls while she does her national service. When we meet, I like to bring a piece of home with me, and there is no better way than cookies.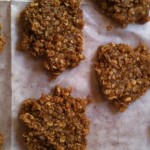 Butterscotch Cookies
The Vegan Cookie Connoisseur
 by Kelly Peloza is the most comprehensive vegan cookie recipe book that I've found. This is a modified version of one of Kelly's recipes.
Ingredients
Instructions
Dissolve flour in soy milk in a sauce pan over medium heat.
Add margarine and brown sugar and bring to boil and keep boiling for 1 minute.
Add the rest of the ingredients, making sure the oats are well covered.
Drop spoonfuls on baking paper and let cool.
Eat.
Allergens
These are great if you need to throw together a batch of cookies in a hurry. The fact that you mix it all up in one pan is definitely a plus. As much as I don't have time to cook as much as I'd like, I have even less time to do dishes. That's another fun thing about cookies – to eat them, no plate of fork is required. Kelly Paloza is a genius!
Add to Favourites