Blintzes are a real comfort food to me. They really bring me back to my childhood. Whenever my Softa (Grandmother) would visit us from Israel, she would stay for a few weeks. One of the things that she loved to do when she was by us was cook. My two favorite things that she made were cheese blintzes and pinwheel cookies. She had extraordinary patience when it came to cooking (a lot more than for us grandkids). Although we weren't aloud to help her cook, I always loved watching her. It's where I get my love of cooking from.
With Shavuot around the corner, I figured that it was time to do my grandmother proud. My grandmother always started her recipe with farmer's cheese. I assume that vegan farmer's cheese is something that you can get in the US. Over here in Israel, not so much. I decided trying my hand at making my own cheese. I'm glad that I did!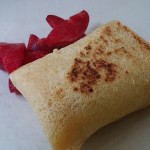 Cheese Blintzes
I had so much fun making these. For me, it's a real taste of childhood. I make the cheese the day before I make the blintzes.
Ingredients
Instructions
Farmer's Cheese:
Pour milk into a large pot and bring to almost boiling (about 5 minutes on high) stirring occasionally.
When milk is about to boil, add vinegar and lower heat a bit. (Curds will start to form).
Keep on fire, stirring occasionally for about 10 minutes.
Pour through cheese cloth and let cheese drain for at least 2 hours.
Filling:
Mix cheese with other filling ingredients
Crepes:
Mix ingredients for crepes together, making sure to get all the clumps out of the flour.
Heat a crepe pan and spray with vegetable oil.
Pour batter on pan to make a thin layer. Pour off any excess batter.
Fry until the crepe looks like it is almost dried out.
Flip crepe carefully and cook for about 10 seconds more.
Flip out of pan and repeat until all the batter has been used.
Blintes:
At the bottom edge of a crepe, place about a 1 1/2 tablespoons of filling and fold over once.
Fold the sides in towards the middle.
Gently roll crepe up to the top.
Fry blintzes on each side until golden brown
Allergens
There is no sugar in the crepe batter. If you'd rather make your blintzes savory, you can fill them with a fried onion and mashed potato mixture. Sweet potatoes work well to. Those aren't Softa's crepes, but I don't think that she's mind if you wanted to go that way.
One thing to keep in mind is that Israeli soy milk is a bit sweet. You may want to add a bit more sugar to the filling.
Chag Sameach!
Add to Favourites