This is a recipe that takes me back to my childhood. Growing up, I think my mom made this practically every week for Shabbat. Everyone loved it.
Her version had eggs and mayo in it. I took out the eggs a while back, before I became vegan, because it just seemed redundant to me to have both mayo and eggs. No one noticed. Now I've taken out the mayo and added corn starch. I don't know if it's still just as good, it's hard to compare something to a memory, but I never have leftovers. I call that success.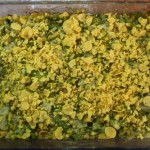 Prep Time: 20 minutes
Cook Time: 45 minutes
Print
Broccoli-Cauliflower Souffle
This is one of my kids favorite side dishes.
Ingredients
Instructions
Boil up broccoli, cauliflower and corn.
Drain, leaving a bit of water, and place in a baking dish.
Add everything, except the handful of cornflakes, and mix well.
Crumble the handful of cornflakes and sprinkle evenly on the top of the souffle.
Bake at 350 degrees for 45 minutes.
I used to have a pot that I could use both on the stove top and in the over. When I used it there was practically no clean up at all. I'm really pro easy recipes that that don't make a lot of mess.
I like my veggies a bit on the crisp side. If you like them that way too, keep boiling time down to a minimum. You may have to mush them a bit with a fork before baking them, but I think it gives them more taste.
Add to Favourites