This is my second attempt at making Girls Scout Cookies. The first ones, Tagalongs, came out so amazing that I knew this day would come. The reason that I waited so long is that I love my daughter. My daughter has this thing against coconut. Can you believe it? I know, you try so hard with kids, but you just have to let them make their own decisions sometimes.
I didn't let that stop me this time. It's true that we also had chocolate chip cookies in the house, which made my decision to make these just a bit easier. After all, she would have some sort of cookie to eat. I'm not a monster.
So here are my favorite girl scout cookies ever, veganized: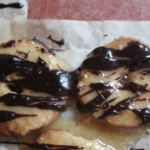 Prep Time: 50 minutes
Cook Time: 8 minutes
Print
Vegan Girl Scout Cookies: Samoas
For your inner girl scout!
Ingredients
Instructions
Dough:
Cream together margarine and sugar.
Add the rest of the ingredients.
Press dough into a roll and put in the freezer for 1/2 hour.
Take out dough and slice 1/8" thick cookies
Place on cookie sheet and poke holes in the center of the cookies.
Bake at 350 degrees for 8 minutes. They're thin, so be careful not to burn them.
Let cool on cookie rack.
Caramel/Coconut Sauce:
Put all ingredients except coconut in a sauce pan and cook until everything melds together.
Bring to boil and lower heat and cook for 2 more minutes.
Mix in the coconut.
Dip each cookie into carmel sauce and let cool on baking paper.
Chocolate Coating:
Melt chocolate chips with soy milk.
Dip cookies in chocolate to cover the bottoms of the cookies.
Place on cookie sheet and with a fork and drizzle chocolate over the cookies.
Let cool.
Allergens
These cookies are not the healthiest in the world, and they are a lot of work to make, and my daughter won't eat them. But for once in a while, they are a great nostalgic fun treat.
Add to Favourites