Every time that I make sweet potatoes I think that I should make them more often. Perhaps it's because they are so sweet I think of them more in the dessert category than something that I would eat during the main course. I find them very confusing that way.
The last time that I made this recipe my kids asked if it was Thanksgiving. (They knew it wasn't.) It's a recipe that really feels like a warm hug.
I don't know if I should mention this yet – we have plenty of time, no need to start cleaning or anything like that – but this recipe is something that you can make on Passover. I've always thought of Passover as the Jewish Thanksgiving. I will definitely be making this recipe for Passover this year!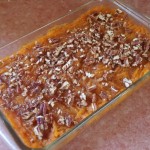 Yield: 10
Prep Time: 30 minutes
Cook Time: 45 minutes
Print
Sweet Potato and Pecan Casserole
Pecans and sweet potatoes just work together. Making this recipe just makes me feel southern.
Ingredients
Instructions
Peal, chop and boil sweet potatoes
Drain and mash the sweet potatoes when they are soft
Add the rest of the casserole ingredients
Pour into greased casserole dish
Mix topping ingredients together
Spread topping evenly over casserole
Bake at 350 degrees for 45 minutes
Serve warm
Allergens
Allergens
I used brown sugar in this recipe, but feel free to switch it out for date honey if you want to go sugar free.
Add to Favourites