I like food. I know what you're thinking – we all like food. It's true, it's a love that I share with a lot of people. It's just that today, I can't stop thinking about it. Perhaps it's because today is a fast day, and the more that I don't have food, the more I think about it.
Today, the 17th of Tamuz (in the Hebrew calander), is the day that the walls of Jerusalem were breached before the destruction of the Second Temple. It's a minor fast day that leads the way to a three week period of mourning, culminating on the 9th of Av, the day the Temple was destroyed. It's really hard for me to think about being sad when all I can do is think about food.
All these different recipes are going through my head. I need to figure out what we will break the fast on tonight. We usually have some sort of soup, and spaghetti, but I'm feeling a bit more adventurous today. I think I'll make vegetable stew with dumplings. It's a great hearty recipe that works well after a fast – it has plenty of liquid to re-hydrate the body, and the dumplings and vegetables are nice and filling. Just perfect.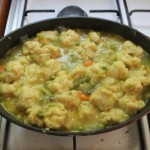 Yield: 10
Prep Time: 20 minutes
Cook Time: 1h 30 min
Print
Vegetable Stew with Dumplings
Perfect to break the fast.
Ingredients
Instructions
Stew:
Heat oil in a pot with a cover.
Add onions, carrots and celery and cook until onions are translucent.
Add zucchini and cauliflower and cook for 3 minutes longer.
Add the rest of the ingredients, mix well, and let simmer until stew thickens.
Dumplings:
Mix together all the ingredients.
Drop teaspoonfuls of batter into the stew.
Cover pot and let cook for 15-20 minutes longer (until dumplings are cooked through).
Eat.
Allergens
Allergens
You might think talking about and making food is not all that bright on a fast day. For some people, it may not be. I don't eat while I cook. I never have. So for me, it's perfectly normal. It actually takes my mind off of the hunger part of food and lets me get to the enjoyment part of it. I know, I'm not normal.
Here's wishing that the Temple is brought back to its glory and we won't have to fast again next year!
Add to Favourites