I love Toby. She's one of my most favorite people in the world. She always has a smile on her face and a nice thing to say. She's one of these creative types that looks for fun and interesting things. She writes two blogs: A Time of The Signs and I Wish I Were a Photographer. Both are so much fun. You should try them out.
Toby gave me a recipe for really yummy bread. I made a couple of modifications to it to make it really yummy whole wheat challah.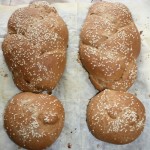 Prep Time: 10 minutes
Cook Time: 35 minutes
Print
Vegan Whole Wheat Challah
This is a sugar free challah recipe that everyone loves.
Ingredients
Instructions
Activate yeast in honey water mixture.
Add the rest of the ingredients and kneed for 5 minutes.
Let rise 45 minutes.
Divide into two - one for each challah and shape. I always make 2 challahs and 2 rolls.
Sprinkle with sesame seeds.
Let rise another 30 minutes.
Bake for 35 minutes at 350 degrees.
Allergens
Allergens
This challah comes out very dark looking not because it uses whole wheat flour, but because of the date honey. 100% whole wheat flour can be very heavy, but this challah isn't.
Instead of using an egg wash, I use a water sugar mixture. It doesn't come out as shiney, but it tastes really yummy. I've also heard of people using a soy milk mixture. You can also sprinkle with seeds. I don't think it adds any flavor, but it looks nice.
Add to Favourites