I make challah every week for Shabbat. We usually don't have much in the way of leftovers, so when we need bread, I'll whip out my bread machine.
The honey that I use for this bread is date honey (also know as silan) and it gives the bread a lovely rich color. I started making this bread for my father-in-law. He's diabetic and shuns white sugar. I'm not saying that this bread is really diabetic friendly, silan is quite sweet, but he enjoys it, in moderation. When buying silan, make sure to get 100% silan. A lot of places sell date syrup that is a mixture of silan and sugar.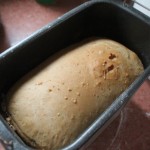 Prep Time: 5 minutes
Cook Time: 3h 00 min
Print
Honey Oat Bread Machine Bread
Silan gives this bread a beautiful, rich brown color. A bowl of soup and some of this rich bread makes a great lunch.
Ingredients
Instructions
Put the ingredients into the bread machine in the order that your machine requires (mine is the order in which the ingredients are listed)
Set your machince (the settings that I use are for 900 gram loaf, light color)
Press start
Remove from machine when it's finished baking and cool a bit on a rack before cutting
Allergens
Allergens
I've had a bread machine for years. Every so often I get into making my own bread in it. I go through spurts. Some weeks I'll make a few loaves and get all excited about having yummy fresh bread, and then sometimes I'll go weeks without touching the machine at all. I think that it has to do with wanting to eat the whole loaf myself when it comes out of the machine. Not a healthy thing to do. It's much easier to have self control when the bread isn't there. You can make this recipe, but this is a warning – the bread can be addictive.
Add to Favourites