I love peanut butter. It's one of those foods that I miss when Pesach comes around. A couple of years ago I saw almond butter, Kosher for Passover, being sold in the store. I tried it, but it was so greasy and laden with sugar that it was inedible. Because of that, I decided to make my own. It's so easy to make, I won't be spending another Passover without it.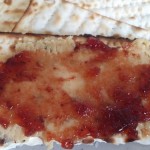 Almond Butter
Almond butter is great on apples. It's also great as a Pesach substitute for peanut butter. It works very well with jelly on matzo.
Ingredients
Instructions
Place almonds and oil in a blender and blend until creamy
Add salt and date honey and process until combined
Done
Allergens
Allergens
How useful was this post?
Click on a star to rate it!
Average rating / 5. Vote count:
Add to Favourites