I use a lot of carrots when I cook. I use them in kugels, kishke, soups and stews. I practically never just make carrots. I don't know why I don't. They are great by themselves. This dish is a savory side dish. I used to make candied carrots, but if I'm going to go sweet, I'll make tzimmes. This is a nice change.
One of the nice things about this dish is that you can serve it practically any time and to most people – it's vegan, and free of gluten, soy, sugar and nuts. I guess it's one of those foods that just brings people together.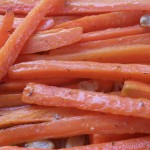 Prep Time: 10 minutes
Cook Time: 40 minutes
Print
Grilled Carrots
I make this as a side dish, but I could just sit down in one go and eat the whole thing by myself.
Ingredients
Instructions
Preheat over to 400 degrees
Peel and slice carrots into sticks
Slice garlic
Mix all the ingredients together and place in a baking dish
Cover with tin foil and bake for 30 minutes
Uncover and cook for 10 more minutes
Serve warm
Add to Favourites