This is also known as eggplant salad. I've eaten eggplant salad for years. Once when I was at my cousins in Huntington they served baba ghanoush. I had no idea what it was until I tasted it. With the fancy name, it still tasted great.
I like making it with mayonnaise that I make myself, but you can make it with tehini if you like that better. It's a stronger flavor and not quite as creamy.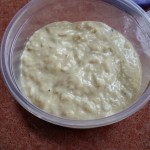 Baba Ghanoush
After you roast the eggplant, it is really easy to scrape out the insides with a fork. The eggplant gives off a lot of water. Make sure to drain it well so that your baba ghanoush isn't runny.
Ingredients
Instructions
Prick eggplant with a knife and roast it in the oven, turning it so that it is blackened on all sides
Let cool
Cut in half and scrape out the insides of the eggplant
Drain excess liquid
Add the rest of the ingredients and mix thoroughly
Serve chilled
Add to Favourites