In my family, it isn't Pesach without Matzo Brei. This is something that has been made for generations in my family. As a kid, we would wake up the first day of Pesach and steaming hot Matzo Brei would be waiting for us. We always put sugar and cinnamon on ours. It wasn't until years later that I found out that people use pepper and salt. That just seemed so strange to me. I guess its different strokes for different folks.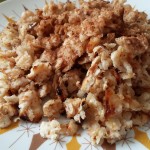 Prep Time: 10 minutes
Cook Time: 10 minutes
Print
Matzo Brei
The Matzo Brei of my mother's and grandmother's was full of eggs. What keeps this Matzo Brei together is potato starch and patience. You need to let it cook on each side for a minute before you flip it over.
Ingredients
Instructions
Break matzo into small pieces
Cover with water and wait 5 minutes
Drain excess water
Add potato starch and salt, and mix well
Heat oil in a frying pan
Add some of mixture to frying pan so that it's about an inch think (it needs to be cooked in batches)
Wait about a minute, until it starts to brown, and flip with a spatula
Cook on the second side another minute
Serve
Allergens
Allergens
5

stars - based on

1

review(s)
How useful was this post?
Click on a star to rate it!
Average rating / 5. Vote count:
Add to Favourites