I make pancakes a lot during the year. It just seems wrong not to make them on Passover as well. These pancakes are not the light and fluffy ones that we have during the rest of the year. Why aren't they? So the children should ask. Not really. Matzo meal is much heavier than regular flour. No matter – they still taste great with a bit of maple syrup.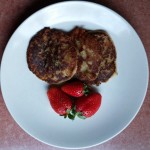 Matzo Meal Pancakes
This batter is very thick. After you spoon it out, make sure to flatten it out so that it will cook through. You can wet a spoon if you find it's too sticky to flatten out any other way.
Ingredients
Instructions
Mix all ingredients together
Lightly oil frying pan
Pour heaping tablespoons of batter on hot frying pan and flatten out batter
Let cook for 2 minutes, until pancakes brown
Carefully flip and let cook on second side another 2 minutes
Serve warm with maple syrup
Allergens
Allergens
There are certain things that are hard to find for Passover. Maple syrup is one of them. I get 100% pure maple syrup from Rami Levy in Shaar Benyamin. It has an O-U P on it.
Add to Favourites