This is a recipe that I got from my friend Ziza. She makes it practically every week. It's easy, low in fat, and everyone loves it. She says that it's important to use a good pot. Since you won't be cooking the peppers in oil, make sure to use a heavy, non-stick pot to get the job done right. It's helpful that the peppers release their own juices so that they don't stick to the pan.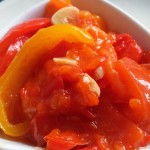 Prep Time: 10 minutes
Cook Time: 50 minutes
Print
Pepper Salad
Use lots of colors of peppers. It makes it beautifully colorful.
Ingredients
Instructions
Heat pot
Lower heat and add peppers and salt
Cook on low heat until the peppers release their juices, about 45 minutes
Add garlic and cook 5 more minutes
Remove from heat and add olive oil
Refrigerate and serve chilled
How useful was this post?
Click on a star to rate it!
Average rating / 5. Vote count:
Add to Favourites