Every year we gather with friends to celebrate Tu B'Shvat (15th of the month of Shvat). Tu B'Shvat is the Jewish new year for trees. You'll see a lot of children all over Israel planting trees. It's nice seeing the kids connected to the land.
A lot of people have a Seder Tu B'Shvat. People eat a lot of dried fruit. I'm not all that into dried fruit. I like cake. This year, instead of making something with dried fruit, I decided to use live fruit. I guess they were live until I cut them up and cooked them. That doesn't sound very vegan, I know. Anyway, here's my Tu B'Shvat apple cake recipe.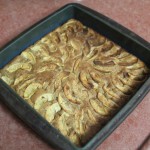 Yield: 16 pieces
Prep Time: 15 minutes
Cook Time: 50 minutes
Print
Apple Cake
You can use your favorite apples for this recipe. I like tart ones. They give it an extra oomph.
Ingredients
Instructions
Peel and chop 2 1/2 apples, peel and slice the last half apple
Mix together all the dry ingredients
Add soy milk, apple sauce and oil and mix through
Mix in the chopped apple
Pour into greased baking pan
Top cake batter with last 1/2 apple and sprinkle with cinnamon
Bake at 350 degrees for 50 minutes
Allergens
My garden is pretty full, so I won't be doing any planting this year. My brother-in-law says that he goes and hugs a tree. If you knew my brother-in-law, you might realize what a funny image that would make. This year I made cake. Maybe I'll go out and give my sad looking olive tree some extra love. It didn't fare too well after the big snow storm we had a few weeks ago, but we still love him.
Have a happy Tu B'Shvat!
Add to Favourites