It seems that most women that I talk to this time of year ask "what are you making for Rosh Hashana?" They aren't looking to me in particular to figure out what to make. It's just that most people are overwhelmed with the holiday and are looking for something different. After all, this year is a 3 day yom tov.
That's right, a 3 day yom tov. That means 6-7 large meals in 3 days. That's a lot of cooking. I may not know what I'm doing for the rest of the holiday, but how can I not make the traditional family honey cake.
Well, since vegans don't eat eggs and most don't eat bee honey, I found it challenging to come up with something that tasted like the family favorite. I think that I did a pretty good job. This is a honey cake made with date honey instead of bee honey. After all, when the Torah talks about honey, that's the kind that they mean. We just switched it to bee honey in recent times.
Date honey is more like molasses than bee honey. To soften the flavor, I added agave syrup. The finished product is a cake that taste just like what mom use to make. Yummy.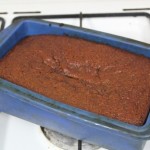 Yield: 12
Prep Time: 5 minutes
Cook Time: 55 minutes
Print
Vegan Honey Cake
I think it would be more appropriate to call this a date honey cake.
Ingredients
Instructions
Pour all the ingredients except raisins in a bowl.
Mix on medium speed for 3 minutes.
Mix in raisins.
Bake at 350 degrees for 55 minutes.
Allergens
Allergens
The batter is thinner than bee honey batter, so the raisin may sink to the bottom. My kids don't like raisins in their cake, so I leave them out entirely.
I wish everyone a Shana Tova u'Mituka! Everyone should have a sweet, happy and healthy new year full of promise and joy.
Add to Favourites