When we are getting ready for Shabbat or Chag, I often ask the kids what they want for dessert. They always say pretty much the same things. Their favorites are chocolate chip banana bread, vanilla cake, and any kind of cookies. That's great, but it can get a bit boring to make the same thing all the time. My nephew, Raanan was visiting us, and when I asked him, he said marble cake. This might not seem to be a big deal to most people, but when the words came out of his mouth, I thought about how I hadn't had marble cake since I became vegan. He made my day.
When I scoured the internet, all the vegan marble cakes that I found made 2 different batters and then put them together. That was just not going to do. In my previous, non-vegan life, I've made enough marble cake to know that there should only be one basic batter for both cakes, and all you need to do is add cocoa to make the chocolate part. If I wasn't going to find a recipe, I guess that I was just going to have to make my own. That's what I've done here.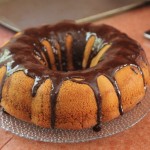 Yield: 12 pieces
Prep Time: 20 minutes
Cook Time: 60 minutes
Print
Marble Cake
No reason to choose between vanilla or chocolate cake - have both at the same time. I just love how pretty this cake always comes out!
Ingredients
Instructions
Cake:
Mix soy milk and lemon juice together and let sit until milk curdles
Add all ingredients except cocoa powder, and mix on medium speed for 3 minutes
Pour 2/3 of mixture into a greased bunt pan
Add cocoa to the remaining 1/3 of the batter and mix together
Pour chocolate evenly in the center of the vanilla batter
With a knife, make back and forth motions to get marble effect - don't overdo it or you'll have a chocolate cake
Bake at 350 degrees for 1 hour
Check with a toothpick to make sure it's done
Chocolate Drizzle:
After cake has cooled, melt chips in a sauce pan with soy milk
Lightly drizzle chocolate sauce over cake
Allergens
5

stars - based on

1

review(s)
One of the things that I really love about this cake (besides how it tastes) is the way that it looks. It's just a pretty cake. Since the first time that I made this cake, it quickly became one of the requested Shabbat favorites. Thanks Raanan! We always love having you over. Shabbat is always more fun when you are around. It's even more fun when there's also marble cake.
Add to Favourites