It's really cold out there. A couple of days ago we actually had snow. There's nothing more fun than having a snow day once in a while. This is the first snow that we've had in a few years and it's been about 5 years since it actually stuck to the ground. The snow only lasted a day, so we made the most of it and had a snowball fight and made a snowman. The important things.
When it's cold outside, I like to bake. The warmth of the oven heats the whole house and gives me a nice warm fuzzy feeling. It's still really cold outside so I decided to make muffins this morning. I usually make blueberry muffins, but this time I decided to be more adventurous. Banana Walnut muffins are a bit more hearty than the blueberry ones, but what really made me make the decision was the fact that I had a couple of bananas that needed to be used immediately. Usually I'd make banana bread, but I figured that muffins are a fun thing to make and take on the go.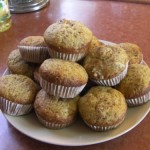 Yield: 12
Prep Time: 10 minutes
Cook Time: 20 minutes
Print
Banana Nut Muffins
These are great to have as a mid-day snack.
Ingredients
Instructions
Add vinegar to soy milk and let sit until it curdles.
Mix together all the ingredients except the sugar and cinnamon for topping.
Pour into greased muffin tins. (I use cupcake papers.)
Lightly sprinkle with sugar and cinnamon.
Bake at 350 degrees for 20 minutes.
Allergens
Not only do these taste really good – they make the house smell fabulous. With the kinds running in and out all the time, it's nice to be able to give them something to take with them. I like to heat them up a bit and have them with a hot cup of tea. For me, that's perfect on a cold and frosty day.
Add to Favourites