I have a new favorite soup that I like to make for Shabbat Lunch. The reason that I like to make it so much is that it is so ridiculously easy. All you need to do is throw all the ingredients into a crock-pot and leave it until Shabbat morning. I also love that it uses easy ingredients that I always have around the house.
I know that I should have posted this recipe when the parshat hashavua was Toldot, but it just wasn't cold enough yet to warrant hot soup on Shabbat morning, so I decided to wait. Toldot is the Torah portion where Yaacov buys Asuv's birthright with a bowl of red lentil soup. I'm not sure that this soup is birthright worthy – I guess that I just take these things a bit more seriously than Asuv – but it is pretty close. Everyone in my family loves it.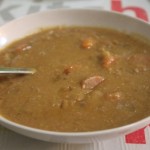 Yield: 10
Prep Time: 10 minutes
Print
Red Lentil Soup
This is a nice soup that is perfect for rainy Shabbatot when you get home from shul. It's made in the crock pot with little effort and lots of flavor.
Ingredients
Instructions
Throw everything into the crock pot.
Set on low a few hours before Shabbat.
Serve the next day for lunch.
1/2 kilo (about 3 cups) red lentils
1 large onion
3 carrots, sliced in rounds
2 celery stalks, chopped
5 cloves garlic, chopped
1 1/2 tsp salt
1 tbsp cumin
water to fill the crock pot
Throw everything into the crock pot.
Set on low a few hours before Shabbat.
Serve the next day for lunch.
It may seem like a lot of water, but if I don't put that much into my crock pot, the bottom gets all dried out. Even with all that water, it still becomes a really thick soup.
Besides being ridiculously easy to make, this soup is completely fat-free and full of protein. I still get asked all the time if I get enough protein without eating meat. People seem to forget that there are all these amazing foods that make it really not a problem. Either that, or they think all I eat is tofu. Don't get me wrong, I'm not dissing tofu, but by no means is it a staple of my diet.
It's going to be a cold one this week, so I'll be making it again for this Shabbat. Just thinking about it warms me up inside.
Add to Favourites